We are comparing two outstanding DApps in this article: leading AMM on the Ethereum blockchain – Uniswap and most popular Binance Smart Chain DEX – PancakeSwap.
If you have any questions, you can contact our Customer Support Service to get answers. You are also guaranteed to get the right solution to any issue you may be having by contacting our Customer Support Team.
Difference Between Uniswap and Pancakeswap
The world of cryptocurrencies can be quite confusing. Nothing is exactly the same as in traditional financial technologies. There are no banks, but there are loans. There are no traders, but there is a huge volume of exchange. Decentralized Finances (DeFi) require novice traders to do their research. Not only because it is important to know how things work "under the hood", but also because the situation on the market changes quickly. What was a super cool way to make income three months ago, is probably no longer that profitable today.
This review will div deeper into the differences between the Pancakeswap and Uniswap, casually mentioning decentralized apps (DApps), automated market maker (AMM) algorithms. If you are fairly new to DeFi, you might want to check this How to DeFi guide first.
Uniswap: The unicorn of DeFi
What is Uniswap? Uniswap is primarily an AMM. It was launched after the crypto boom of 2018. Version 2 was launched in May 2020. Version 3 started exactly one year later, which is why you will often see Uniswap v2 or Uniswap v3 at various DeFi aggregators and top lists.
Uniswap decentralized exchange runs on open-source software, and its code was the foundation of many other "Swap" DApps. Uniswap made the news when in 2020 their trade volume took over that of Coinbase, one of the most popular centralized exchanges.
Uniswap only offered cryptocurrency exchange, swapping tokens. Later they offered liquidity pool providing, but as of the time of writing this article, they don't have other products typical for DEXs, like yield farming, staking, aggregation, etc.
Uniswap runs on Ethereum, Polygon, Optimism, and Arbitrum networks. Uniswap's governance token is UNI. While you can buy, sell and trade UNI token, it is primarily used for participation in Unicorn DAO.
Pancakeswap: The unicorn of Binance Chain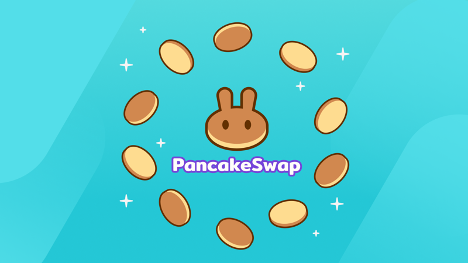 What is a Pancakeswap exchange? Basically it's Unicornswap's code running on Binance Smart Chain (BSC) network. Other than AMM, Pancakeswap fashions itself as a true decentralized exchange (DEX). It was launched in September of 2020 as one of Uniswap alternatives, with Binance Smart Chain users in mind.
Pancakeswap crypto exchange gained popularity primarily because of the Pancakeswap fees, but also because of the speed. It offers yield farming, staking and other more advanced DeFi products, making the platform very lucrative for traders. Pancakeswap managed to briefly usurp the ruling position of Uniswap, overtaking daily trading volume in February of 2021, and growing ever since. While Uniswap managed to regain its position as number one, Pancake is in hot pursuit.
Pancakeswap runs on Binance Smart Chain, and while they have a CEO and dedicated team of developers, the community has their say in the governance through native CAKE token, which can be staked as well. How to stake on Pancakeswap is a very smooth experience, as this exchange tries to make their interface accessible and approachable to even the beginners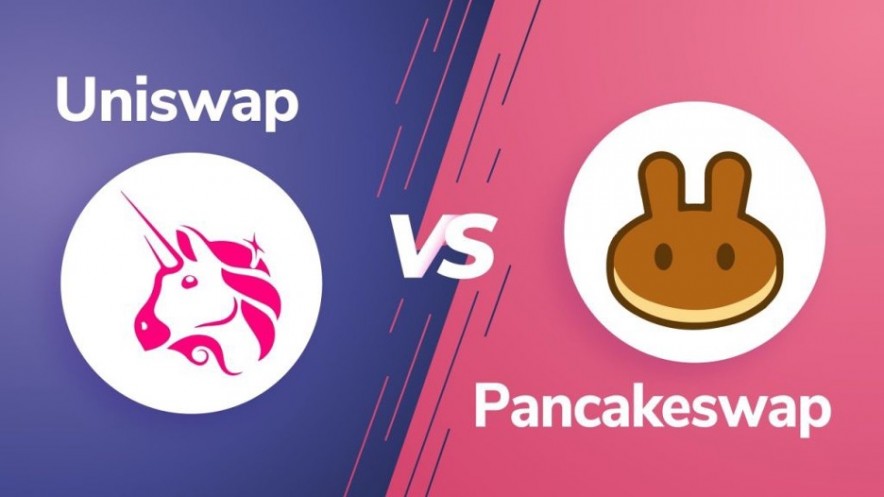 Total Value Locked (TVL) and Market Cap Comparison
Pancakeswap vs Uniswap, round one!
Total Value Locked is not the ultimate metric for comparison, but it shows the popularity of the DeFi exchange. Uniswap is a clear leader here with $7.5 Bn in total value, compared to Pancakeswap's $4.3 Bn TVL. Considering that Uniswap offers four networks, vs Pancakeswap's one network, this is a reasonable difference in favor of Uniswap.
Market Cap represents total market value of a cryptocurrency's circulating supply. It is for DeFi market what free-float capitalization is for a stock market. Uniswap is again a leader here with $5.6 Bn worth, against Pancakeswap's $1.5 Bn.
However, it seems that Pancakeswap has more active community of traders, while Uniswap's traders handle larger traders per each swap.
UNI token vs CAKE token
Uniswap or Pancakeswap, round 2!
Uniswap runs a governance token – UNI. It became tradeable, and its value peaked at $45 in the summer of 2021. There is no other use case for UNI tokens other than voting. You can't stake it or otherwise gain UNI as yield.
Pankcakeswap uses the CAKE token. It is a true native token. Besides its use in governance, you can use CAKE to earn more CAKE. Staking the token yields a portion of revenue from trading fees. Moreover, you can use CAKE in the liquidity pools.
This round is clearly won by Pancakeswap, despite the stats, which show that the all-time high was $42 in the spring of 2021 and that the current market, CAKE is cheaper than UNI.
Uniswap vs Pancakeswap User Experience Comparison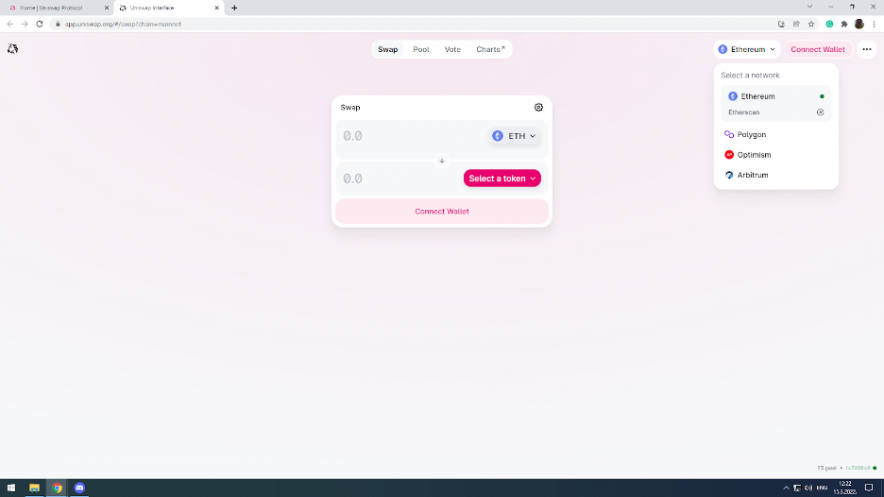 As you can see, Uniswap is sporting a very minimalistic user interface. Basically you need to know your DeFi (and you can learn a lot from our articles at TradeCrypto.com) in order to get around.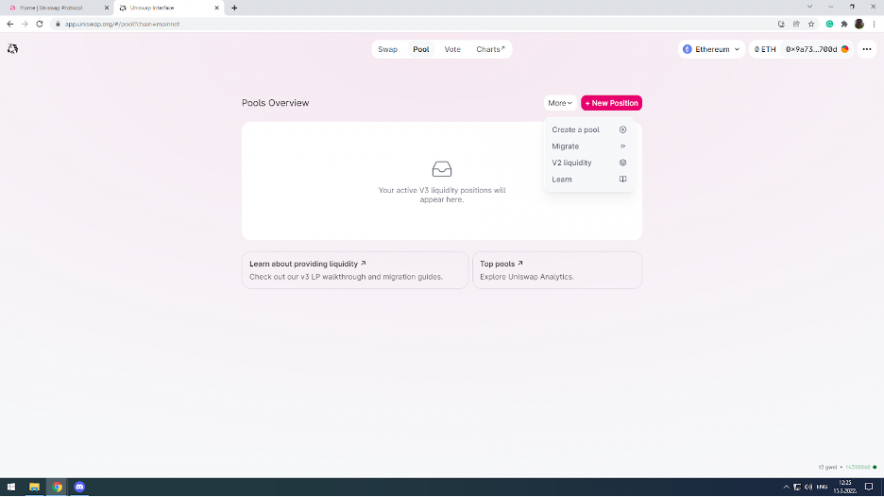 Liquidity pool also requires knowledge, but for the uninitiate there are links to well illustrated guides on how to create your own liquidity pools, as well as to analytics tool to find the pools you migh want to join.
Pancakeswap sports a much better user interface. As you can see there is a graph added at the swap pair, plus the links to the liquidity pool section.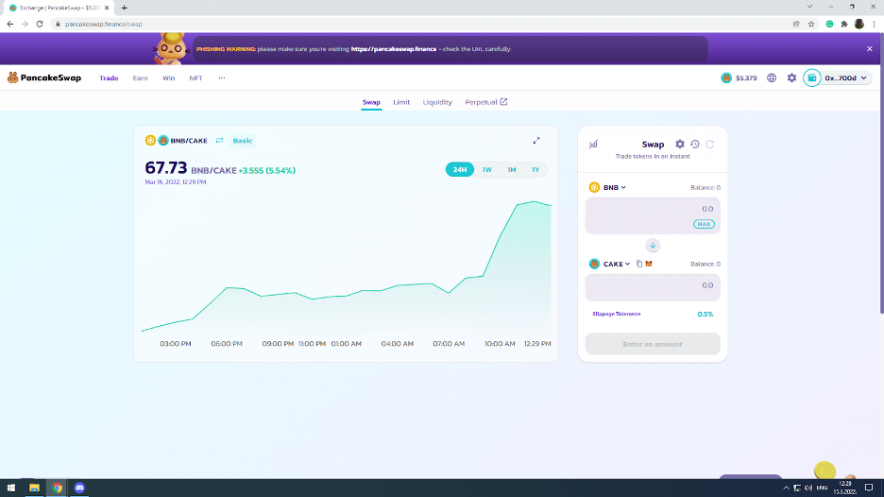 Adding liquidity is also very simple with detailed info on volumes, fees, share and yield.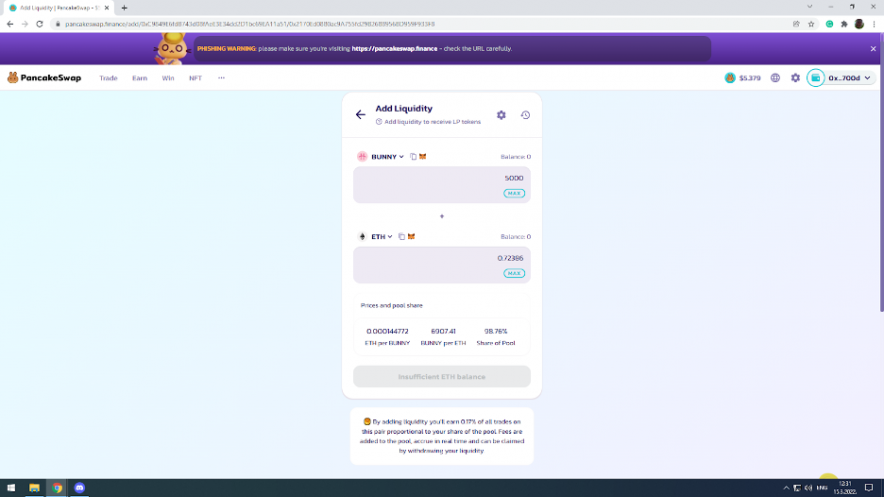 It is quite clear that Pancakeswap exchange wins here, as it is easy to navigate their DApp and the interface is more clear and easy to use. How to stake on Panckakeswap is also easy, just go to the Farm section.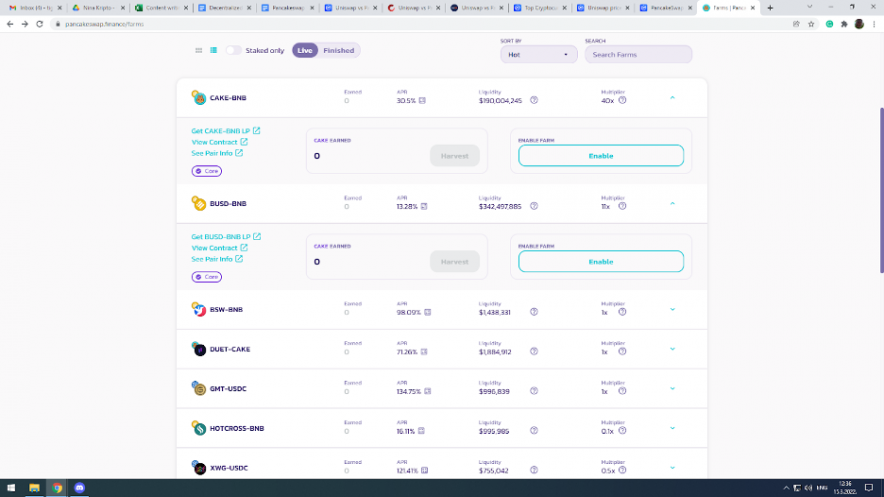 Staking is done through LP tokens. What is very helpful here is that return of investment is very clearly presented, as well as a multiplier, e.g. information on how much CAKE you can earn by staking your LP tokens.
Uniswap vs Pancakeswap by Coins and Pairs offered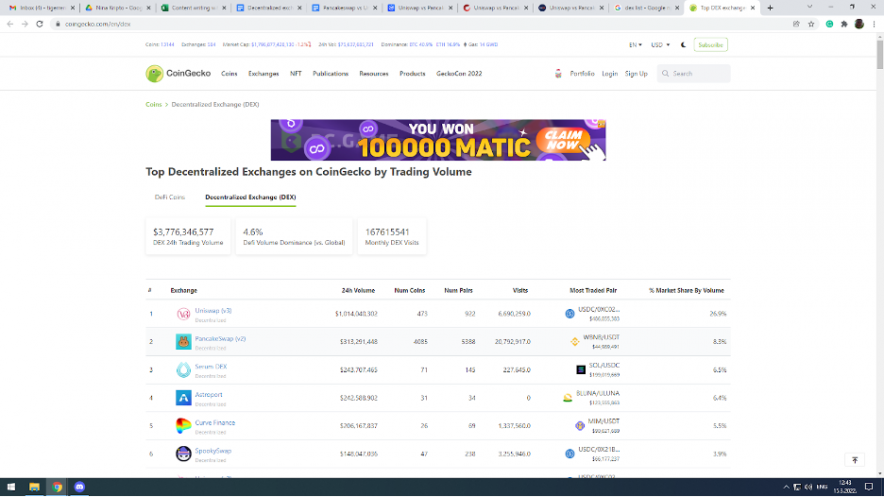 Uniswap offers more than 450 tokens, and more than 900 trading pairs. Pancakeswap clearly wins here, with more than 4000 tokens offered for swap, as well as a whopping 5300 pairs. If you are a trader looking for those juicy 100x tokens, clearly Pancakeswap is the way to go. Number of visits to Pancakeswap clearly indicates more lively market, while Uniswap as older and more reputable, still holds greater market share and greater volume of trade.
Uniswap vs Pancakeswap trading and gas fees
Ethereum vs Binance Smart Chain, that's the real battle here. Ethereum's gas fees are still high, forcing the smaller traders to seek alternatives. Compared to Ethereum, Binance Smart Chain not only sports considerably lower fees, but also much faster transactions.
Uniswap charges 0.3% fees on trading pairs, however it can be as low as 0.05% for stablecoin pairs, or as high as 1% for more exotic fees. That's without Ethereum gas fees which can be quite high.
Pancakeswap charges 0.25% trading fee across all the token pairs. Moreover, you can stake CAKE for 48% APY reward, making it possible to earn $480 in compounded interest for $1000 investment. However, more realistic figure, when you take token inflation and other factors, is 23% APY, which is still good, as you can earn $230 in compounded interest for $1000 of investment.
Pancakeswap or Uniswap, What's the Final Verdict?
Uniswap is bigger. Pancakeswap is faster and cheaper. Uniswap is a market leader. Pancakeswap is a plucky contender, offering vast number of exotic tokens, staking, and other bells and whistles of modern DeFi exchange.
Like we mentioned before, things in the crypto industry are prone to changing rapidly. This is why it is important to follow crypto media such as TradeCrypto.com to stay up-to-date with the latest trends and hacks.
As for these two platforms, there is no clear cut verdict, but here is a summary of pros and cons.
Uniswap Advantages
Flawless security history
Greater trade volume
Most liquidity for ERC-20 tokens
Uniswap Disadvantages
High gas fees
No yield farming or staking
Slower to use
Pancakeswap Advantages
Cheap and fast to use
Huge offer of tokens
Staking and yield farming options
Pancakeswap Disadvantages
Binance Smart Chain is not as safe as Ethereum
You have to bridge assets from Ethereum
Trading volume is volatile
If you have any questions, you can contact our Customer Support Service to get answers. You are also guaranteed to get the right solution to any issue you may be having by contacting our Customer Support Team.